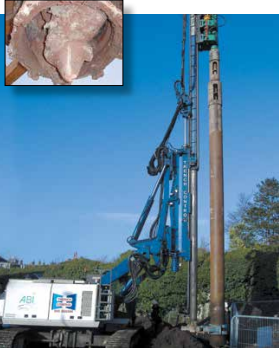 We offer concrete piling using ABI's double rotary head auger system that enables us to pile within 50 mm of a wall. The system is known as VDW (Vor Der Wand = in front of wall).
This is achieved through the use of a specialist ABI Leader rig that allows the steel casing to pile in line with the hydraulic motor thereby no loss of space exists between the pile and the boundary wall.
This technology facilitates a high quality finish on pile walls, as the steel casing leaves a clean, smooth pile and ensures that when driving secant piles, maximum efficiency is achieved as the finished pile is more accurate in its vertical direction and distance from adjacent piles.
Advantages:
Vibration Free
Low Noise
Economic – no loss of ground space